Wondering what the urge/incentive is for "successful" or "high profile" writers (and editors) to crap on the rest of the struggling, less successful writers? How many "death of" or "_____ is ruining literature" declarations really need to be made, over and over, every other week?
Is it a desire to set oneself apart from the pack? Killing the competition? Is is the threat of becoming bacon and having to move over for something leaner? The fear of the changing and unknown? I honestly don't know, but am always incredibly annoyed when I come across these articles on what seems to be a more frequent basis.
What is the purpose for publishing these limp declarations? Controversy=page hits=advertising revenue/subscriptions/book sales? Is anyone else tired of all these inflated, made-up controversies and declarations of DOOM? It's feels emotionally manipulative. Is feels like somebody is trying to shove the rabid soul of a teabagger down my throat.
Ew, don't I know it . . . and no thank you.
Speaking of death, today is a friend's birthday and I drew a Tarot card for her. Yes, you guessed it, DEATH. Does that mean she's doomed? No. It means the end of a cycle. And what comes after the end of every cycle? That's right, a new cycle. Gideon is in preschool and understands this concept. It's called the changing of the seasons, the harvest, ringing in a new year, graduating and moving on to kindergarten.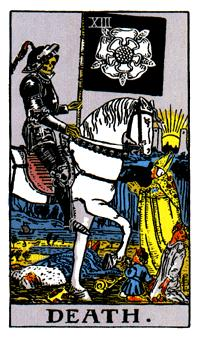 Do you see what's rising in the background? That's right, it's called the fucking DAWN.